Kleurkiezer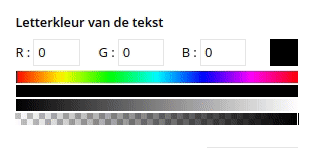 Met de widget voor kleurselectie kunt u een bekende waarde invoeren (RGB), of handmatig de gewenste kleur selecteren.
Het is mogelijk om de tint, helderheid, verzadiging en transparantie te bepalen.
tip : Als de kleur zwart of grijs blijft terwijl een tint is geselecteerd, dan moet de helderheid en/of verzadiging worden verhoogd.